Weddings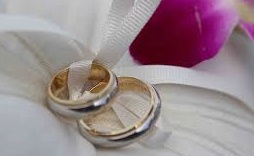 Lars and I were looking for something unique that would allow our guests, and us, to share a laugh and remember the occasion as something that wasn't 'just another wedding'.
Ruth really listened to what we were trying to achieve and provided alternatives for us to think about.  When we finally found our style, Ruth brought it all together into the perfect ceremony for US and delivered our wedding with warmth and humour.
So many of our guests commented on our wedding and our celebrant. We were so lucky to have Ruth who made our special moment such a memorable one.
Thank you so much Ruth for empowering us to develop a ceremony to suit us.  The ceremony was our favourite part of our day and this is truly thanks to you.  Ally and Lars

Thank you for marrying us and making yourself available at such short notice.  We are truly grateful.  Without your kindness and support this day would not have been possible.  From the bottom of our hearts, thank you. Amanda and Joshua.
Thank you so much for being our celebrant.  We were so blessed to have you.  Everyone was saying how lovely our Ceremony was – couldn't of done it without you.   Natasha and Nathan I met Tash as a young lady who on the previous July stood up at her grandfather's funeral service and it was a joy 15 months later to see her so happy.
I am so glad you were able to 'marry us'.  We loved the Ceremony – thank you. It was fabulous to be able to share our heartfelt ceremony with family and friends – and still give them a laugh – all round it was definitely a mission accomplished. Jean & Adam.
Baby Naming
We are so privileged to have found such an amazing celebrant for our daughters naming day, could not have asked for a more smooth running process thanks to you!! Jackelyn and Tom.
Funerals
For me and my family it was one of the best services we have ever attended. It was carried out with respect and dignity.  It was all about Carmel and not about religion, it was outstanding and how she would have wanted it. Thanks Ruth – Bernard.
Thank you very much for the absolutely beautiful service. Ken would have loved it.  Thank you again. Debbie
Thanks for the wonderful job you did in conducting Michael's Service last week.  We cannot thank you enough, you made a very tough day so much more bearable. Brian and Jenny Sullivan.
We deeply appreciate all your kindness in our time of great sorrow and loss. It's been a true pleasure to meet you, and we wish to thank you with all our hearts for helping us to have a fitting, dignified and warm farewell for our beloved mum Narelle. Your kind and supportive words and deeds have been of much comfort and will always be remembered. Daniel, Liana and Stephen.
Thank you for the wonderful job you did for Dad's service.  We received so much positive feedback about the service and this was mainly due to your organisation and delivery. I will certainly be recommending you whenever I get the opportunity. Kay David and Florence Newman.
The family was so happy with the Service. Hopefully when our children get married we can meet again in happier circumstances.  Katie Gassner.
Thank you for your lovely service and attention to detail at Noels funeral ……..you have made us feel like old friends and I will treasure that sincerely.  I got a bit anxious when Bruce's story of life was so long but thanks to you it ended well….Thank you – Maree Edwards
You have a "gift for giving", thank you so much. Chapman family.
Thank you for getting us all through a very difficult time. Brian and Clair.
Dad's Memorial Service today was amazing.  Special thanks to family, friends and Ruth who did a wonderful job as our Celebrant.  Ruth went above and beyond to ensure all was perfect for our very special community member. Maria Jackson
Thanks for suggesting Ruth to us to be our celebrant.  She was wonderful in every way–her warm, compassionate nature shone, and made the day so much easier for all of us.  Bringing a quiet confidence and calmness.  I shall remember the day with a special blend of warmth and caring professionalism at a very sad time for our family (family of Eileen Byrne).  Diane, Sandra and Sue. 
Big thankyou for a wonderful Service.  The amount people that said, it was just what they would like for themselves – we were so pleased.  Noelene Williams & Family